Biography
A little naughty...And a whole lotta nice!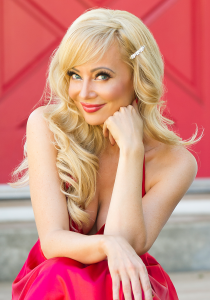 With an impressive body of work that encompasses TV, film, print and stand-up comedy, Stacey Hayes has proven herself to be a highly recognizable TV personality known to millions worldwide as Chuck Woolery's brilliant and beautiful on-air judge and co-host on the Game Show Network's #1-rated original show, "LINGO."
Stacey Hayes is a lifelong performer who began her promising career with her first television commercial at the age of three. Since then, Stacey's star hasn't stopped rising, and she is currently reaping the rewards of her blossoming career thanks to years of training and dedication combined with her unlimited wealth of talent.
Raised in London and Nebraska, Stacey spent many years as a competitive ice-skater, internationally published model and actress, gracing the pages of numerous print campaigns and acting in countless national television commercials. Stacey went on to make her big break in Hollywood, starting out on television with runs on multiple popular daytime dramas including "Sunset Beach," "The Young and the Restless" and "Days of Our Lives". But not before she sharpened her comedic edge as a stand-up comedienne at world-famous venues such as the Comedy Store in Los Angeles. "Multi-talented" is Stacey Hayes' middle name.
Stacey has hosted countless TV shows such as Columbia Tri Stars reality show "Salon Confidential," world-famous shopping network "QVC" and "Hard and Heavy" with Bret Michaels just to name a few. Stacey can also be seen co-starring with William Shatter in an international Kellogg's commercial as well as a fun stint replacing Jenna Jameson as Josh Duhamel's co-star on the hit TV show "Las Vegas." A Howard Stern Show favorite and a Spike TV regular with all her sexy appearances on "Manswers" have her in demand with all the major men's magazines.Stacey is splashed all over the pages of "Playboy," "Stuff," "Maxim", "FHM" and "Kandy" magazine.
With her ever-expanding resume and matchless versatility, it's no surprise Stacey has already been featured as a guest on "The Tonight Show," "The Roseanne Show" and "Later". Expect to see more of the spectacular talent that is Stacey Hayes in 2017 and beyond.